Andrew Jeremiah Casteel
Born: 22 Apr 1834, Licking County, Ohio
Marriage (1): Margaret Sterret in 1865
Died: 22 Nov 1919, Putnam County, Ohio at age 85
Buried: Sugar Ridge Cemetery, Leipsic, Van Buren Township, Putnam County, Ohio


General Notes:
According to the 1880 Federal Census Andrew was married and lived in Liberty Township, Putnam County, Ohio. His father was born in Pennsylvania and his mother was born in Ohio.

An 1895 plat map of Liberty Township shows A. Casteel owning two plots of land in the northwest corner of the township. One is 40 acres and the other is 120 acres.

Civil War records state that Andrew Casteel served in the First Ohio Cavalry, Company D. He enlisted as a Private and was mustered out as a Corporal. This unit saw action at Chickamauga, Manassas II, Chattanooga III and Perryville. The book below (The History of Putnam County) states that he saw action in additional battles. Leave it to say that he saw a lot of action for a long time and survived without injury.

THE HISTORY OF PUTNAM COUNTY
George Kinder
Published 1915
Page 1083

Andrew Jeremiah Casteel

He is the son of Thomas and Salome (Livingstone) Casteel. Andrew Casteel was reared on a farm and, at the outbreak of the Civil War, enlisted in the First Ohio Cavalry, in Company D, and served until the end of the war. He was with Sherman's army, in Tennessee, and in the battles of Stone's River, Lookout Mountain, Shiloh, Chickamauga, and Missionary Ridge, as well as a number of other important battles fought by the western army. He was never wounded or captured. At the end of the war, Andrew Casteel came to Putnam county and purchased land in Liberty township. He now owns about four hundred and seventy-six acres, sixty of which are in Michigan, and has farmed all of his life. He was married, in 1865, to Margaret Sterret, a native of Licking county and a daughter of Robert and Nancy (McLaughlin) Sterret. Andrew and Margaret (Sterret) Casteel have been the parents of three sons and five daughters, Della, who lives at home and keeps house for her father; Nancy Alice, who is the wife of Joseph Bishop, of Llenry county, and has six children; Minnie Virginia, who is the wife of Mr. Ward ; Wesley, who lives in Henry county, married Belle Leary, and has three children; Andrew Smith, who died in April, 1905, married Cora Bishop and had five children; Laura Ellen, the wife of Orville Lazenby, who lives on the east line of Liberty township and has three children; Leroy Gibson, who lives at Quincy, Michigan, married Rhoda Newell and has five children; Salome Elizabeth, who died in February, 1911, was the wife of Charles Lazenbjr, of Henry county, and had two daughters. Mrs. Andrew Casteel died on November 6, 1906. She was a member of the Disciples church, which she joined in Licking county when a young woman. Here she belonged to the West Bellmore church. Mr. Casteel is one of the oldest liv- ing residents of Putnam county, now being past eighty years of age, but still does his own work. His sight is still very good and he often reads by lamp light until ten or eleven o'clock at night. He has kept up with the times in every particular and is a well-informed man.

After the marriage of Mr. and Mrs. Henry Ward, he farmed in Henry county two years and then came to the Casteel farm where he lived for eight years. In the fall of 1905, he bought eighty acres in Liberty township, south of Prentiss, where he now resides.

To Henry and Virdie (Casteel) Ward, seven children have been born, Francis, who is now attending the high school at Leipsic; Byron; Leroy; Clyde; Lloyd; Burl and Irven. Francis took part in the corn contest in the fall of 19x4, and raised one hundred and twelve bushels to the acre and fifty- six pounds to the bushel. One hundred pounds of this corn was shelled and produced eighty-four pounds of shelled corn and only sixteen pounds of cobs. a remarkable record. As a reward, he was given a trip to Washington,. D. C.

Henry Ward is a leading member of the Odd Fellow lodge and is also one of the leading citizens of Liberty township and Putnam county, a man who is highly respected where he resides.


Noted events in his life were: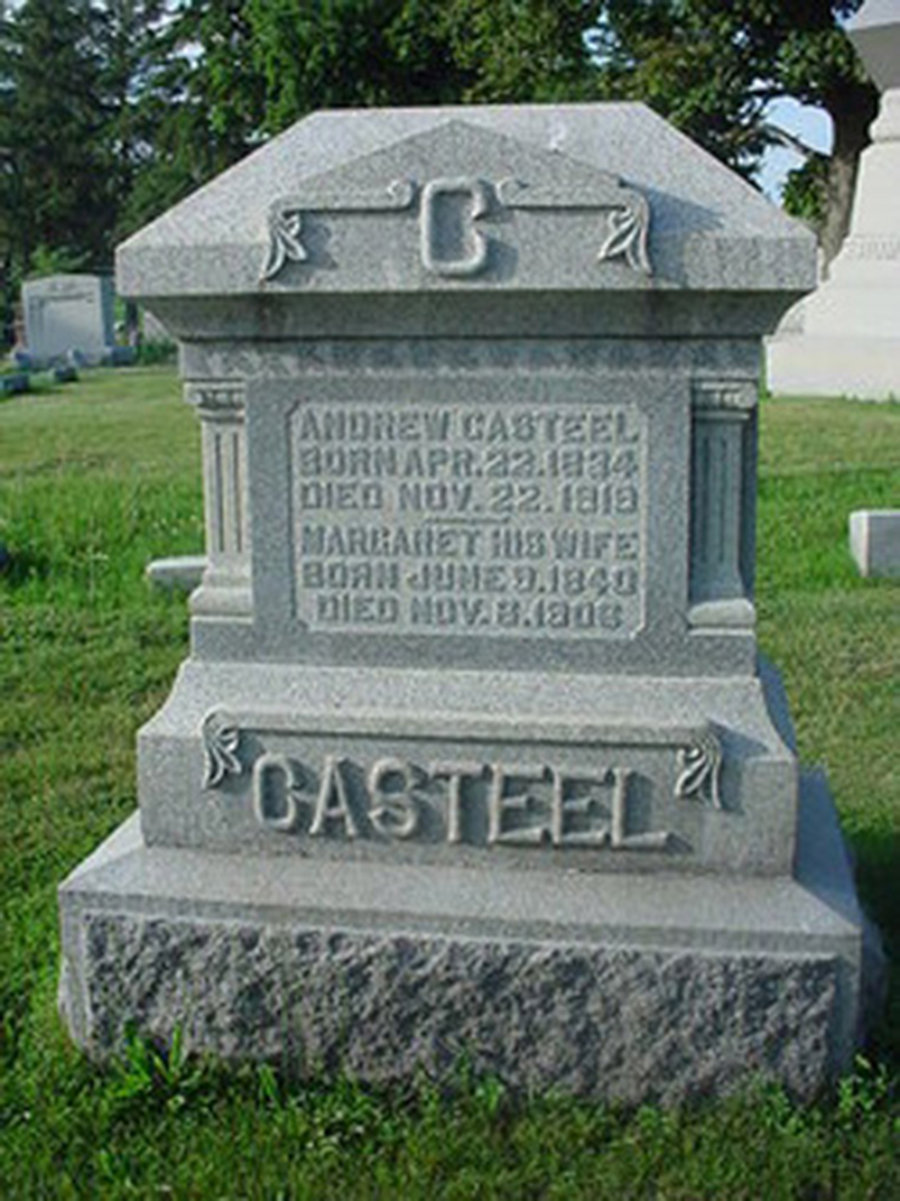 1. Cemetery: Andrew and Margaret Headstone: Sugar Ridge Cemetery, Leipsic, Van Buren Township, Putnam County, Ohio.

Andrew married Margaret Sterret, daughter of Robert Sterret and Nancy McLaughlin, in 1865. (Margaret Sterret was born on 9 Jun 1840 in Licking County, Ohio, died on 6 Nov 1906 and was buried in Sugar Ridge Cemetery, Leipsic, Van Buren Township, Putnam County, Ohio.)