Rev. Lloyd Hinman Nixon D.D.
Born: 23 Dec 1893, Owosso, Michigan
Marriage (1): Pearl E. Dawson on 2 Jul 1915 in Imlay City, Michigan
Died: 26 Oct 1952, Flint, Michigan at age 58
Buried: Ottawa Park Cemetery, Clarkston, Oakland County, Michigan


General Notes:
Lloyd and his wife, Pearl, spent their honeymoon on the ship John J. Barlum. Pearl assisted her father who was chef, and Lloyd assisted the purser of the ship.

Lloyd Hinman Nixon was a Methodist minister in Michigan until his death at age 58 in 1952.

Among other Churches, he was Minister at the First Methodist Church in Lowell, Michigan from 1924 - 1927.

The following is from a publication called "Glimpses" by John Lakin Brasher.

Lloyd H. Nixon was Chairman of the Board of Trustees, Chicago Evangelistic Institute. The son of William Nixon, he partook of the nature and character of his noble father. Full of humor, full of play, firm as a rock, a preacher of marvelous versatility and range. He was pastor of some of the largest churches of the Detroit, Mich., conferences. District superintendent, delegate to the General Conference, and sought after far and near to preach in holiness camp meetings and conventions, to minister to pastoral conferences, retreats, etc. He was for years the President of the Eaton Rapids, Mich., Camp Meeting; a great comrade, He held aloft noble and Biblical standards. Outstanding among the many great sermons I heard him preach was one on the eighth chapter of Romans, and one on the tenth chapter of Hebrews. In these messages he reached a grasp of both books that I have never heard equaled by any in exposition. He and his father were my close friends, and their fellowship was blessed. Brother Nixon and his cultured Christian wife paid us a visit not so long before his death. They took noon dinner with us and left a blessing upon us. He preached on a Sunday morning, then, after dinner, rested a while, and "was not, for God took him."

Obituary - Flint Journal
Pastor Dies At Home Here
Rev. Lloyd H. Nixon Stricken After Service
Suffering a heart attack shortly after preaching his morning sermon, the Rev. Lloyd H. Nixon, 58, pastor of Central Methodist Church, died Sunday afternoon at his home, 1802 Detroit St.
Mr. Nixon was president of the Flint Ministerial Assn. until his retirement from the post this month. He had been at the Flint church for a little more than three years, coming from Pontiac.
Services will be at 1:30 P.M. Wednesday in the church, with Methodist Bishop Marshall R. Reed, Detroit, and Dr. Paul S. Rees, St. Paul, Minn., officiating. The body will be at the Algoe-Gundry Mortuary until noon Wednesday, when it will be taken to the church to lie in state. Burial will be in Ottawa Park, Waterford.
Mr. Nixon was active in evangelistic work. He sometimes spent his vacations preaching in out-of-town pulpits. He gave much attention to the camp-meeting type of ministry and was president of the Eaton Rapids Camp Meeting Assn. He was a trustee of the Chicago Evangelistic Institute. He was a member of the Kiwanis Club.
Among the clergy, his platform appearance and sermon contruction and delivery were considered exemplary.
A native of Owosso, Mr. Nixon was a graduate of Pontiac High School and Albion College, in 1923. He was awarded an honorary doctor of divinity degree in 1935 by John Fletcher College, Oskaloosa, Iowa.
He was pastor of Central Methodist Church in Pontiac for six years and for five years before that was superintendent of the Albion-Lansing district of the Michigan Conference. Former pastorates include churches in Grand Rapids, St. Joseph and Battle Creek.
Mr. Nixon leaves his wife, the former Pearl E. Dawson, whom he married in 1915 at Imlay City; 2 sons, James D., Munith, Mich., and William G., Grand Rapids; 3 daughters, Mrs. Hayden Carruth and Mrs. Donald Porrith, both of Ann Arbor, and Mrs. William H. Helrigel, Jr., Albion; his mother, Mrs. Jeannette Nixon, Pontiac; 2 brothers, 4 sisters and 10 grandchildren.

When Lloyd was 48 he registered for the draft. At the time he was 5'9" tall and weighed 210 pounds. His eyes were blue, hair blonde and had a light complexion.

David Porritt, son of Mary Ellen Nixon Porritt, died in infancy a couple of months after the Rev. Lloyd Hinman Nixon was buried in the Ottawa Park Cemetery, Clarkston, Oakland County, Michigan. Pearl Nixon granted permission to bury David Nixon Porritt in the same plot designated for her and Lloyd. This permission was granted on December 23, 1952. Pearl passed on November 3, 1954, and was buried next to Lloyd. Lloyd and Pearl have their inscriptions on the gravestone. There is no marker for David. This comes from cemetery records.


Noted events in his life were: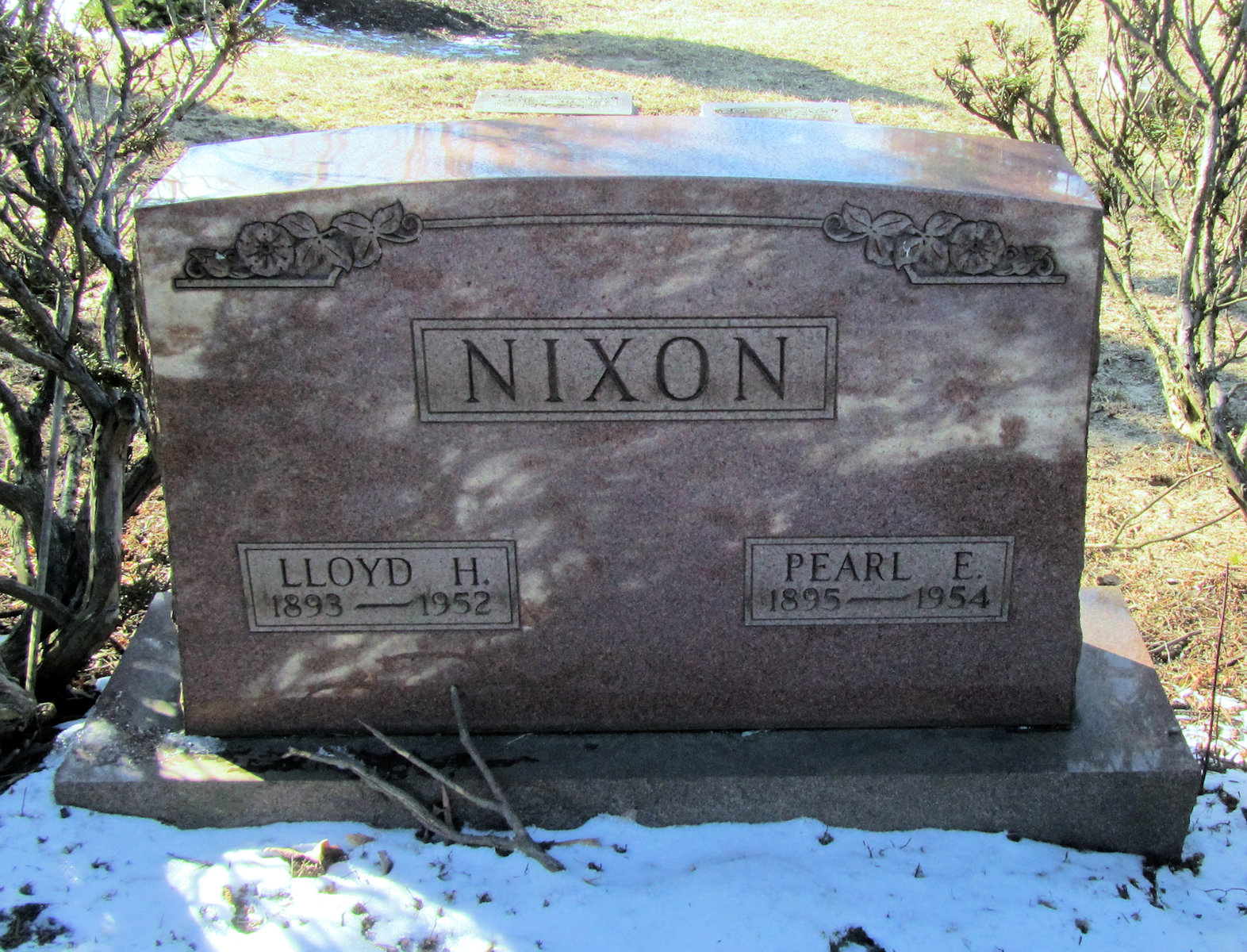 1. Picture: Lloyd and Pearl Nixon Headstone.

Lloyd married Pearl E. Dawson, daughter of James (John) Dawson and Kittie Lottie Spencer, on 2 Jul 1915 in Imlay City, Michigan. (Pearl E. Dawson was born on 20 Oct 1896 in Thompson, Michigan, died on 3 Nov 1954 in Pontiac, Michigan (St. Josephs Mercy Hospital) and was buried in Ottawa Park Cemetery, Clarkston, Oakland County, Michigan.)