Miina Nisonen
Born: 22 Sep 1874, Lemi, Finland 27
Marriage (1): Nikoteemus (Nick) Hokkanen
Died: 11 Dec 1919, Green, Michigan (Upper Peninsula) at age 45 27
Buried: 22 Dec 1919, Carp Lake Township (Green) Cemetery, Ontonagon County, Michigan 27


General Notes:
Miina Hokkanen is listed as Minnie Hokkanen in the MTU Archives & Copper Country Historical Collections. Index to Green Cemetery.

Patronymic Maununt.

From the Institute of Migration Emigrant Register Passenger Records.
http://www.migrationinstitute.fi

Last Name: Hokkanen
First name: Miina
Age or age class: 25
Port of departure: Hanko
Place of destination: Calumet
State of destination: MI
Country of destination: USA
Price of ticket: FIM 228
Ship from Finland: Polaris
Date of departure from Finland: 13.10.1900
Ship from England: *
Date of departure from England: 99.99.9999
Ocean Line: Dominion Line
Port of departure from England: *
List and page: 18/54
Remarks: Mk Nikodemus ja Lyydi Hokkanen


Noted events in her life were: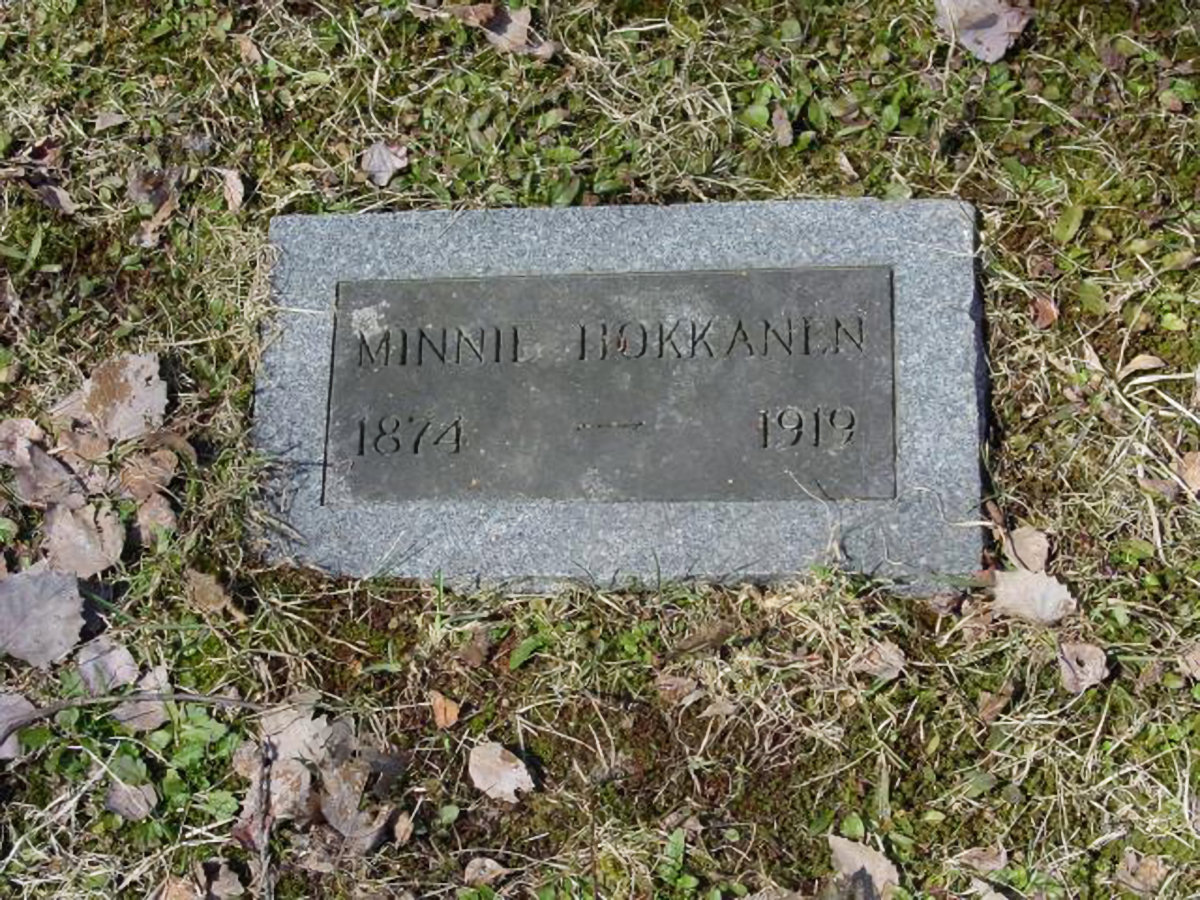 1. Picture: Carp Lake Township (Green) Cemetery: Green, Michigan (Upper Peninsula). This is a picture of the marker on the grave of Miina Nisonen's. Notice her given name changed from Miina to Minnie.

Miina married Nikoteemus (Nick) Hokkanen, son of Jahvetti Hokkanen and Unknown. (Nikoteemus (Nick) Hokkanen was born on 15 Feb 1872 in Korpilahti, Finland,27 died in 1934 in Michigan 27 and was buried in Carp Lake Township (Green) Cemetery, Ontonagon County, Michigan 27.)