Rev. William Gay Nixon D.D.
Born: 8 Sep 1865, Michigan
Marriage (1): Jeannette Sherman Elizabeth in 1888 in Owosso, Michigan 182
Died: 16 Dec 1926, Detroit, Michigan at age 61
Buried: 18 Dec 1926, Grand Lawn Cemetery, Detroit, Wayne County, Michigan


General Notes:
William and Lillie were twins. According to the 1870 Michigan Census, when William was four years old, he lived in Sciota Township, Shiawassee County. The family used the post office in Laingsburg. In all probability, this is where he was born.

William Gay Nixon was a prominent Methodist minister in Detroit in the early 1900s. He and his wife Nettie had seven children. East Grand Boulevard Methodist Church is one of the Churches where he was minister.

From 1910 to 1916 William Gay Nixon was minister at First Methodist Church in Pontiac. Two small windows on the front of the church are memorials to William and his wife Jennette. While minister, the Church was re-decorated, the old gas fixtures were removed, and electric lights installed. The Sunday School Room was subdivided with canvas curtains to form eight classrooms. These were lowered from the ceiling. The Church plant was also improved with additions made to the kitchen.

Simpson Park Campground in Romeo, Michigan, was begun as the Romeo District Summer Camp for the Methodist Episcopal Church in 1865. After the 1890s, it was operated by a private association made up predominately of United Methodists. In 1907, it was reorganized and the Reverend William G. Nixon was elected its first president. A tabernacle was built and named in his honor in 1910.

The following was a tribute written by a layman, John Engle, and appearing in the church bulletin the Sunday following the death of Dr. Nixon.


FAITHFUL

A Church crushed by sorrow at the loss of its Pastor and friend can find no single word that better epitomizes his character and ministry.

Faithful to the Gospel of Christ through over thirty years of preaching and ministry; faithful to this church during a period of months of physical breakdown when in the case of any but one of his indomitable spirit self-interest would have called for rest and recuperation; faithful, on the very night of his translation, to his duty in the prayer meeting, when he should have been under the doctor's care.

His loss to this Church is irreparable. His long experience was needed as we stand on the brink of our building program. His deep spirituality was needed in a world and a community drifting toward materialism. A multitude of friends needed his earthly years of distinctly evangelistic ministry, found the Christ with their hands in his, will feel that the greatest earthly influence in their lives has gone.

His loss will be felt more than locally. Throughout the length and breadth of this land, where his voice was heard in fervent evangelistic appeal, and life-long friends made, tears will this day be shed.

For her who today lives deprived of the support and presence of one with whom she walked through many years of happiness and perfect home life, the prayers of the Church ascend to God for her strengthening and comfort. His people extend to his children, in whom he had such pride, affectionate sympathy, rejoicing with them in the splendid heritage that is theirs, in the memories of a life lived as this one was.

"Farewell, William G. Nixon, faithful minister of Christ, crusader for the right, pastor, friend, spiritual leader, until the Morning."

William was also minister at the Mary W Palmer Memorial Church located at 656 Champlain Street, Detroit, Michigan. Champlain Street became Lafayette.

Obituaries from The Argus (22 Dec 1926), Laingsburg, Shiawasee County, Michigan
Nixon, W. G. Rev.
Born near Laingsburg. Died 21 Dec. 1926 at age 60. Married Nettie Sherman. Funeral in Detroit.

The following is from a publication called "Glimpses" by John Lakin Brasher.

William G. Nixon and Lloyd H. Nixon were father and son. Pastor-evangelists, now reunited on the other shore. Men of God, men of conviction with courage to stand by their convictions. Dr. William Nixon, the elder, was for many years one of the leading Methodist ministers of Michigan, and was pastor of a Methodist Church in Detroit when he was suddenly called to his reward. He was president of the Romeo, Mich., Camp for a number of years, and also of the Eaton Rapids, Mich., Camp Meeting. He was a member of the Board of Trustees of Taylor University in Indiana, and of John Fletcher College in Iowa. He was a strong preacher of the Gospel, and stood for and preached full salvation or heart holiness as taught by John Wesley and the Methodist fathers. He loved all men and feared none. I playfully named him "The Duke of Wellington," because of their striking resemblance in profile, but as much or more because there was no retreat in him. Modernists shunned crossing swords with him because he was a theological foe to be shunned if possible. I had him for two meetings in John Fletcher College when I was President, and I served under his camp meeting presidency often and delightfully. He was a brother but never a "softy." He laid the foundation for his too early Home-going to that spirit of resoluteness that did not ask help, even when he needed it. Going to catch a train, instead of calling a taxi, or having someone help him, he took two heavy traveling bags and hurried to the station. In so doing he strained his heart and never fully recovered from it. One night, at the close of his midweek prayer service, his summons came suddenly, and as brave and true a heart as ever beat slipped away to be with the Lord.


Noted events in his life were:
1. Residence, 1900, Chesaning, Saginaw County, Michigan.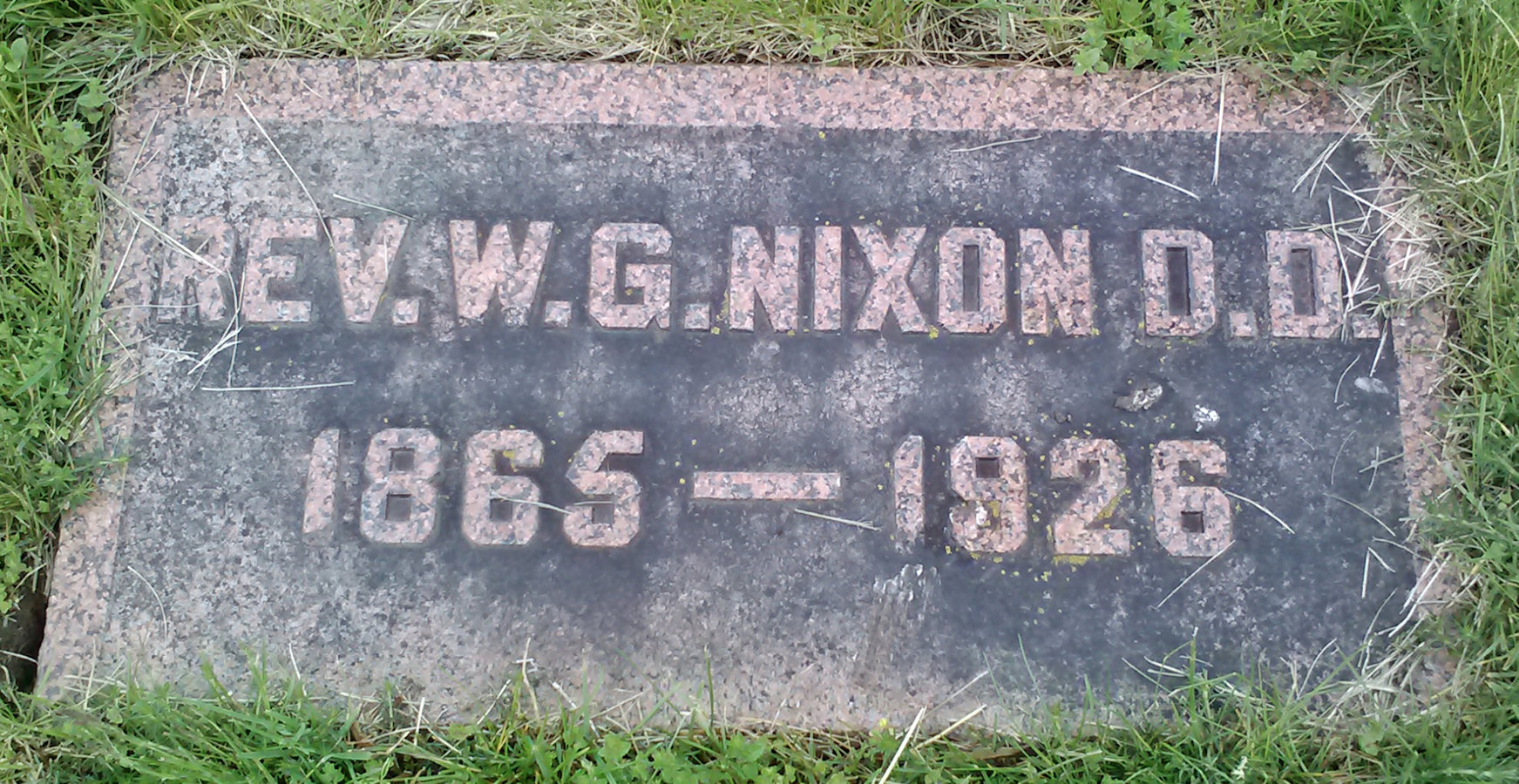 2. Picture: William Gay Nixon Headstone: Grand Lawn Cemetery, Detroit, Wayne County, Michigan.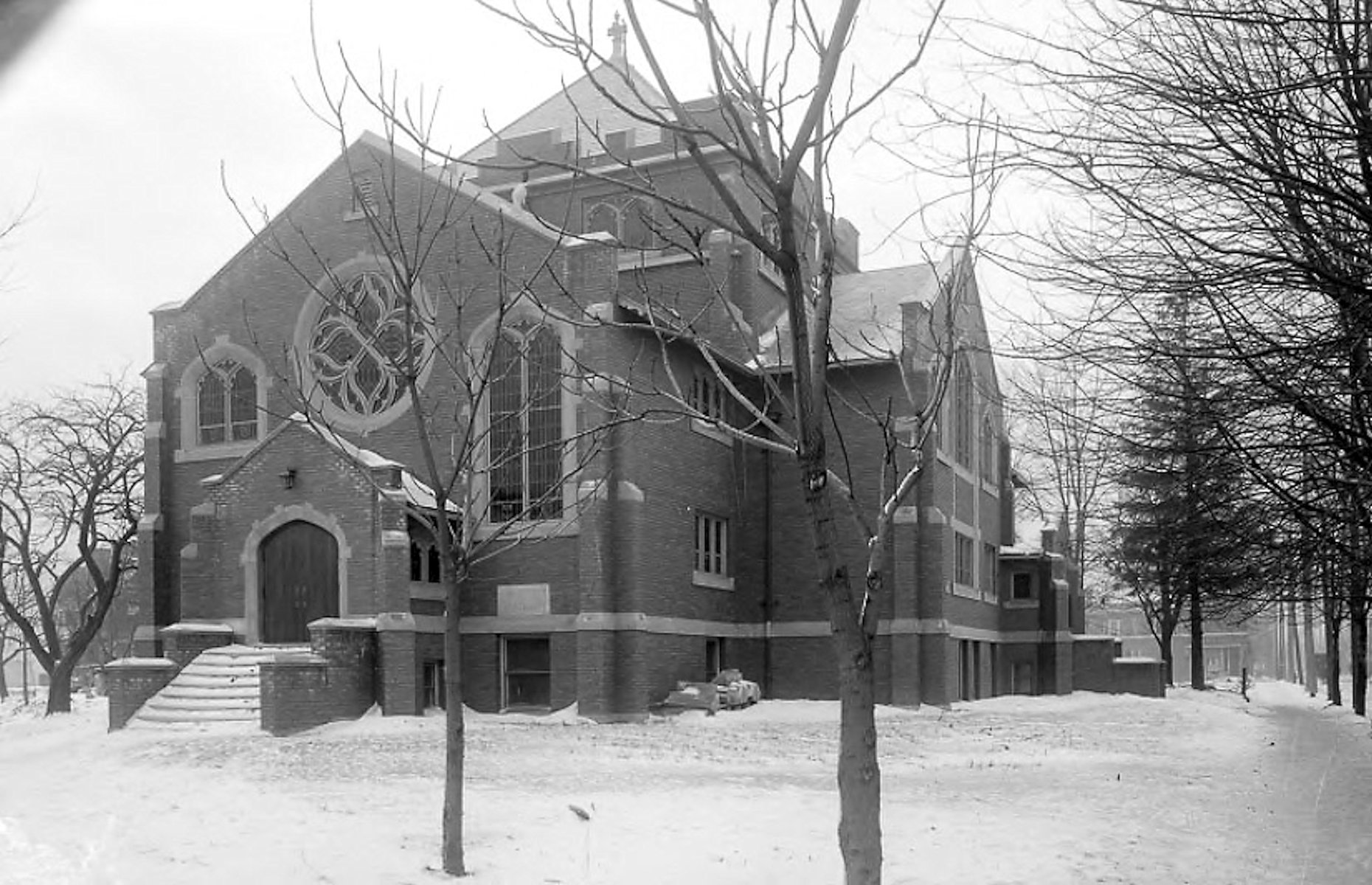 3. Picture: East Grand Boulevard Methodist Church, 1910. The cornerstone of the East Grand Boulevard Methodist Church was laid down in a ceremony on June 27th, 1908. The church is located at the corner of Gratiot and East Grand Boulevard in Detroit.


William married Jeannette Sherman Elizabeth, daughter of John D. Sherman and Sarah J. Potter, in 1888 in Owosso, Michigan.182 (Jeannette Sherman Elizabeth was born in Nov 1867 in Michigan 183 and died in 1964 in Chelsea, Washtenaw, Michigan.)