Pearl E. Dawson
Born: 20 Oct 1896, Thompson, Michigan
Marriage (1): Rev. Lloyd Hinman Nixon D.D. on 2 Jul 1915 in Imlay City, Michigan
Died: 3 Nov 1954, Pontiac, Michigan (St. Josephs Mercy Hospital) at age 58
Buried: Ottawa Park Cemetery, Clarkston, Oakland County, Michigan


General Notes:
Pearl Dawson was an only child.

At one time Pearl Dawson's father was the ship's chef on a Great Lakes ore liner. Recollection of James Dawson Nixon:
Pearl and her husband, Lloyd, spent their honeymoon on the ship John J. Barlum. Pearl assisted her father who was chef, and Lloyd assisted the purser of the ship.

Though her father was shot and killed in a robbery, she was a strong opponent of the death penalty.

David Porritt, son of Mary Ellen Nixon Porritt, died in infancy a couple of months after the Rev. Lloyd Hinman Nixon was buried in the Ottawa Park Cemetery, Clarkston, Oakland County, Michigan. Pearl Nixon granted permission to bury David Nixon Porritt in the same plot designated for her and Lloyd. This permission was granted on December 23, 1952. Pearl passed on November 3, 1954, and was buried next to Lloyd. Lloyd and Pearl have their inscriptions on the gravestone. There is no marker for David. This comes from cemetery records.


Noted events in her life were: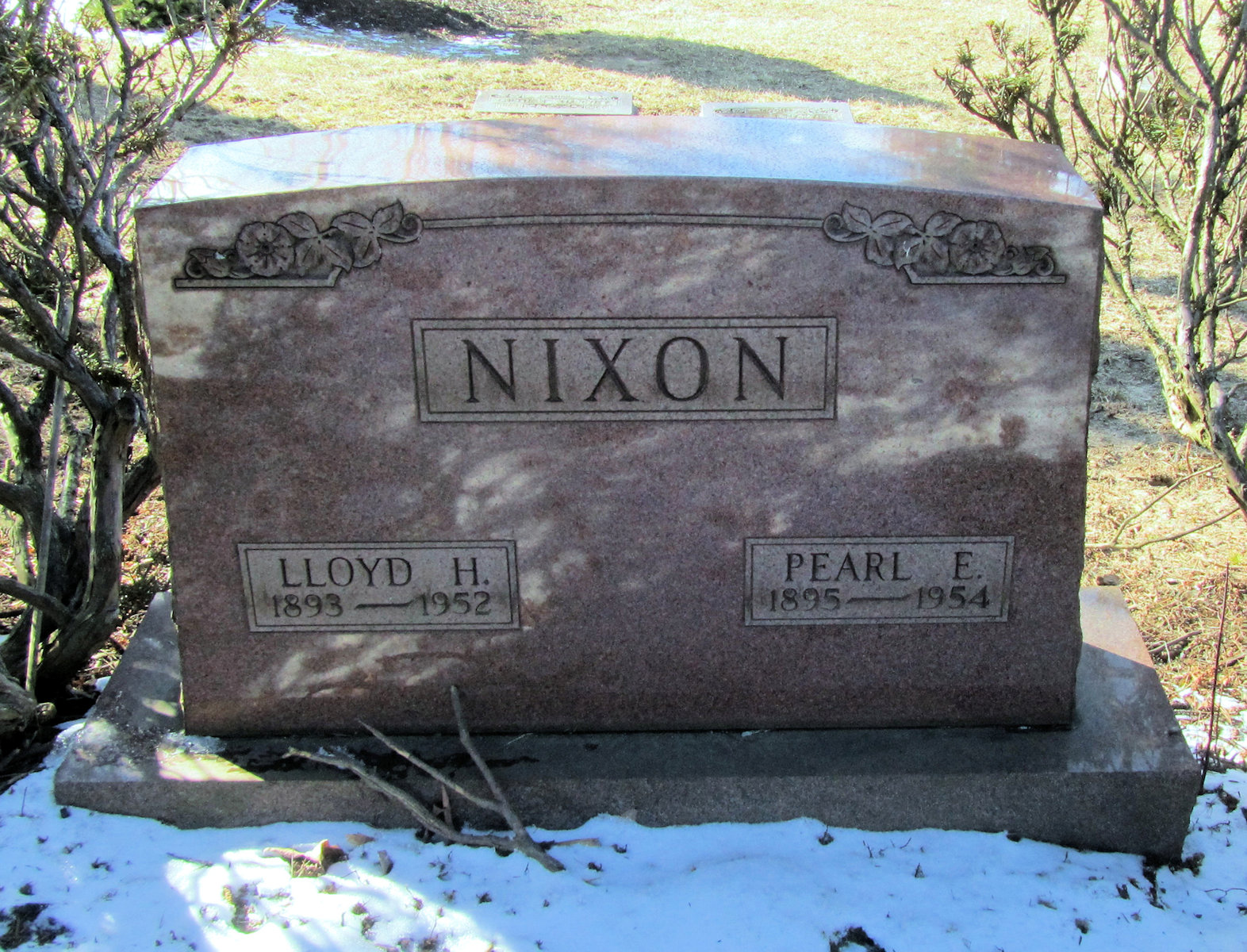 1. Picture: Lloyd and Pearl Nixon Headstone.

Pearl married Rev. Lloyd Hinman Nixon D.D., son of Rev. William Gay Nixon D.D. and Jeannette Sherman Elizabeth, on 2 Jul 1915 in Imlay City, Michigan. (Rev. Lloyd Hinman Nixon D.D. was born on 23 Dec 1893 in Owosso, Michigan, died on 26 Oct 1952 in Flint, Michigan and was buried in Ottawa Park Cemetery, Clarkston, Oakland County, Michigan.)