Kaisa Maria Maronen
Born: 6 Jan 1864, Kemi, Finland 29
Marriage (1): William Makimaa in Aug 1889 in Torino, Finland
Died: 25 Jan 1947, Michigan at age 83 29
Buried: Greenland (Maple Grove) Cemetery, Greenland Township, Ontonagon County, Michigan 29


General Notes:
Kaisa Maria went by the name of Mary. According to the 1920 census she immigrated in 1892 and became naturalized in 1894.

Kaisa Maria is from Kemi, Finland. This is in the northwestern part of the country. She was raised by an aunt.

The name on her grave in Greenland Cemetery is K. Maria Makima.

Ironwood Daily Globe Obituary Monday, January 27, 1947.
Mrs. Makimaa Of Mass Dies
Mass - Mrs. William Makimaa, 83, pioneer resident of this community, died Saturday night at the Ontonagon Memorial Hospital. She had been a patient there since Tuesday.
Mrs. Makimaa had resided here 45 years, in recent years living with her family on a farm at East Branch.
Surviving are her husband and two sons, Theodore and Enoch, and two daughters, Mrs. Emily Vives and Mrs. Sylvia Bears, all of Detroit. There also are 15 grandchildren. The children arrived here last week and were at their mother's bedside when she died.
The funeral services will be held at the Finnish Lutheran church Wednesday afternoon with the Rev. A. Michaelson officiating. Burial will be in the Greenland cemetery.


Noted events in her life were:
1. Residence: Greenland Township, Ontonagon County, Michigan, 1940. This was her residence at the time of the 1940 US Census. She is still living with her husband William on their active farm. At this time they are both in their 70s.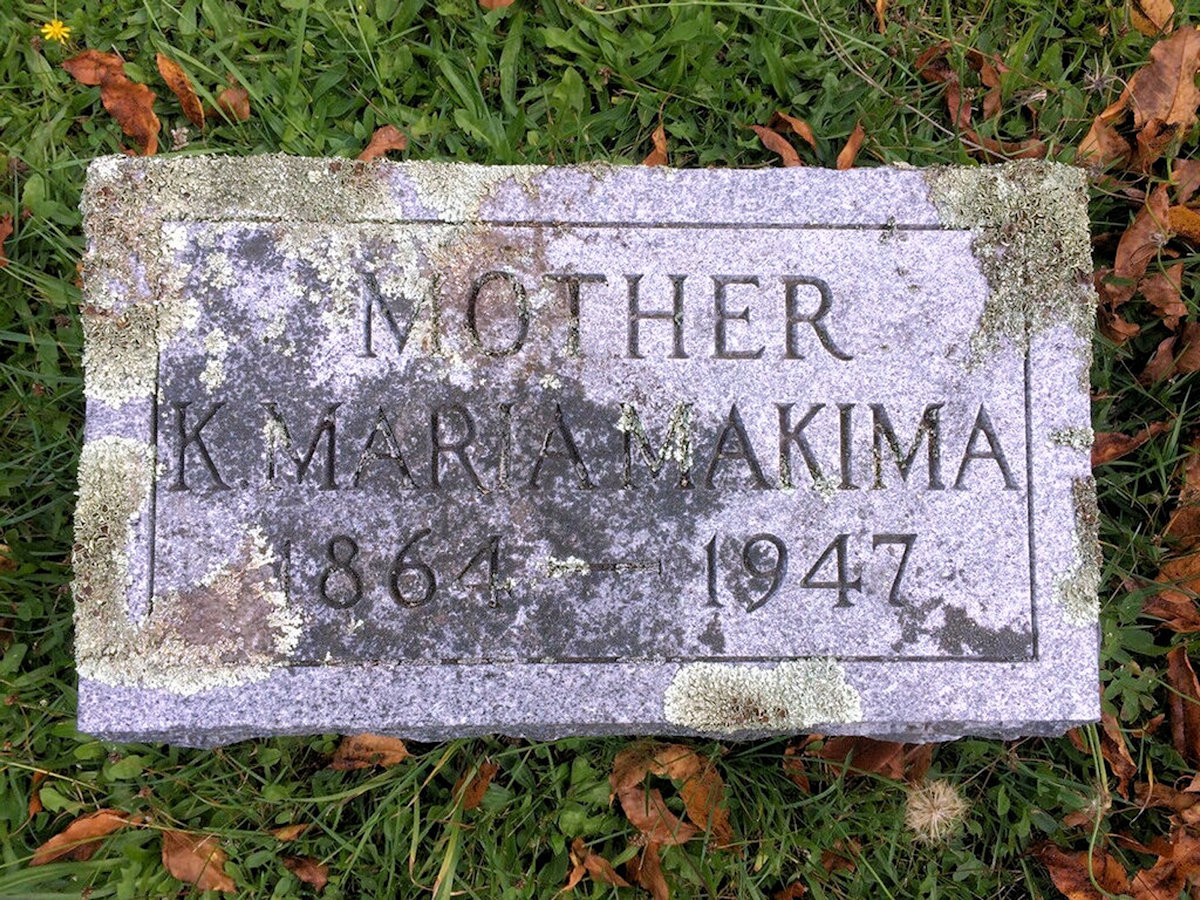 2. Picture: Kaisa Maria Makima Headstone: Greenland (Maple Grove) Cemetery, Greenland Township, Ontonagon County, Michigan.

Kaisa married William Makimaa, son of Johan W. Makimaa and Kreeta Erkkila, in Aug 1889 in Torino, Finland. (William Makimaa was born on 24 Aug 1866 in Tornio, Finland,29 died on 10 Apr 1955 in Republic, Marquette County, Michigan 29 and was buried in Greenland (Maple Grove) Cemetery, Greenland Township, Ontonagon County, Michigan 29.)