Ada Mary Caines
Marriage (1): William Ellsworth Coller on 3 Apr 1882 in Marshall, Michigan
Died: 5 Dec 1946, Michigan at age 83 8
Buried: Johnson Cemetery, Lamotte Township, Sanilac County, Michigan


General Notes:
Ada Caines last name was spelled Cains on the Social Security Application submitted by William McKinley Coller (son). This may be an alternate spelling.

Ada had a "Milk Leg". This is a painful swelling of the leg occurring in women after childbirth as a result of clotting and inflammation of the femoral veins.

Obituary
Cass City Chronicle - Friday, December 13, 1946
Mrs. William Coller
Died at Age 83
Mrs. William E. Coller, 83, a resident of Lamotte Township, Sanilac County, for 60 years, passed away Thursday morning in the Morris Hospital here of pneumonia. She had been ill for a week and a patient in the hospital since Monday. Funeral services were delayed until Monday, pending the arrival of a daughter from California. A prayer service was held at 2 p.m. in the Coller home on Germania road and services at 2:30 p.m. in the Snover Evangelical United Brethren Church. Rev. Horace Freeman of the Decker Methodist Church officiated and burial was made in Johnson Cemetery.
Mr. and Mrs. Coller were the parents of 14 children, three of whom died in infancy. They had recently made reservations for a trip to California to visit their daughter there.
Miss Ada Mary Caines was born June 30, 1863, at Ceresco in Calhoun County. April 3, 1882, she married William E. Coller at Marshall, Mich., and four years later they came to Lamotte Township.
Surviving are her husband; six daughters, Mrs. C. J. Ceresco (Flora) of Ceresco; Miss Ethel coller of San Francisco, Calif.; Mrs. R. N. Black (Iva) and Mrs. Hazel Gorman of Detroit, and Mrs. Archie Hicks (Gladys) of Deford; five sons, Harry of Lapeer, Jesse, Ellis and Donald of Snover and William, Jr., of Owosso; 14 grandchildren and six great-grandchildren.


Noted events in her life were: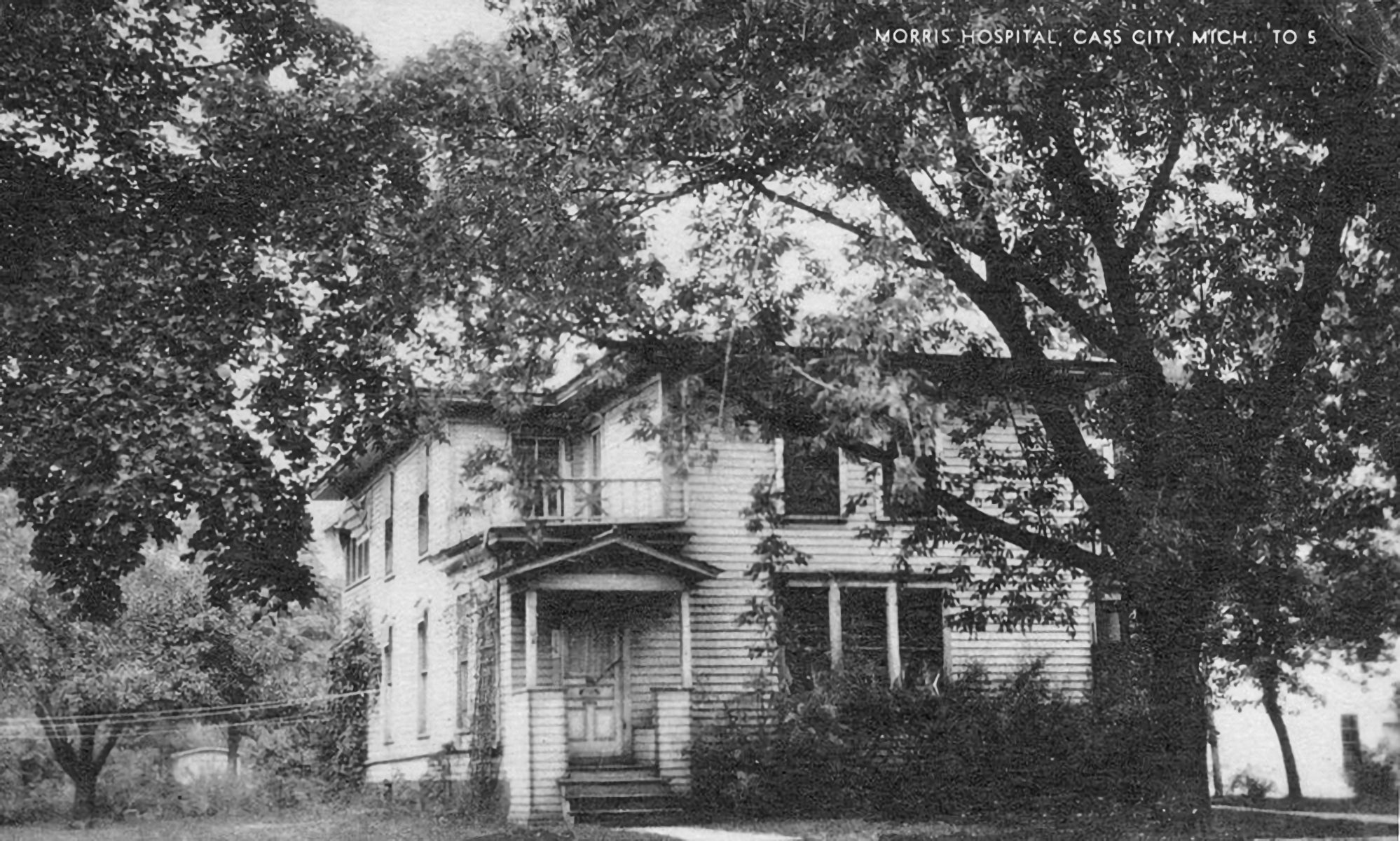 1. Picture: Morris Hospital, Cass City, Michigan. This is Morris Hospital where Ada died.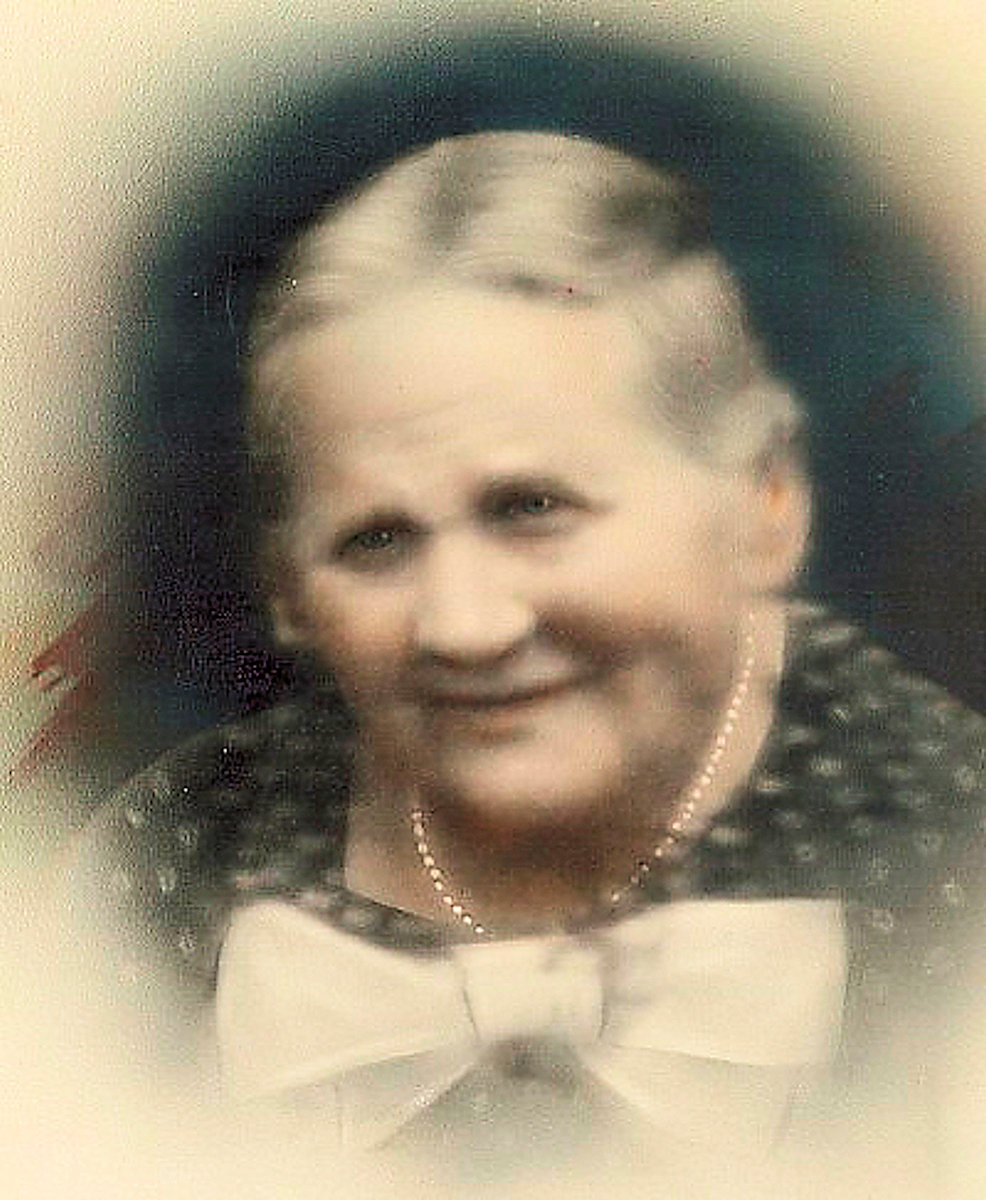 2. Picture: Ada Mary Caines.

Ada married William Ellsworth Coller, son of James Losey Coller and Amanda Mulvina Richart, on 3 Apr 1882 in Marshall, Michigan. (William Ellsworth Coller was born on 13 Aug 1861 in Newton, Calhoun County, Michigan,5,6 died on 26 Jul 1949 in Cass City, Tuscola, Michigan 6 and was buried in Johnson Cemetery, Lamotte Township, Sanilac County, Michigan.)