William Ellsworth Coller
Marriage (1): Ada Mary Caines on 3 Apr 1882 in Marshall, Michigan
Died: 26 Jul 1949, Cass City, Tuscola, Michigan at age 87 6
Buried: Johnson Cemetery, Lamotte Township, Sanilac County, Michigan


General Notes:
William Ellsworth Coller was listed as "Willie" in the 1870 Michigan census. He was 9 years old and lived on the family farm in Newton Township, Calhoun County, Michigan.

William completed the eigth grade.

In the 1880 U.S. Census William was "working on farm" in Newton, Calhoun County, Michigan. He was listed as 17 years old. The household record in the 1880 census listed the family as Amanda M. Coller, Lafayette Coller and William Coller.

As an adult, William Ellsworth Coller was a farmer, invested in real estate and loaned money.

Recollection by Karen Coller Curell - Grandpa loaned money to people. Abel Caines also did this. I figured Grandma maybe encouraged Grandpa to do this. They would charge interest for the use of the money. When my folks and I would go for Sunday drives, we would come across barns and other things my Dad would say Grandpa had not received payment for. He did not believe in banks. When the house burned, a radio burned in a bedroom upstairs. Grandpa was very upset because he had money hid in the radio, not dollars but a lot of money.

The following was provided by Clyde Coller on 3/23/02:

Guess I may not have anything specific (in writing) about William McKinley or his father William Ellsworth. Somewhere, I do have a very moving letter from Granville to one of his brothers regarding the death of their mother, Amanda. Ellsworth was almost certainly born on the family farm at Lee's Lake, Newton Township MI near Battle Creek. That was 1861 and his father, James, died in 1864. His Mother, Amanda was a big believer in education and was able to send her sons to college except for my great grandfather, Edgar, the oldest. Granville became a physician and practiced until he was in his early 90's. There is an Amanda Coller scholarship set up at Westmister college in recognition of her. Sometime in the 1880's Edgar moved most of the family to Snover MI (in the thumb part) where Edgar's inlaws either already resided or moved there at the same time. Whether William Ellsworth moved then or later, I do not know. Part of the family stayed put and I think there may still be Collers in the Lee's Lake area. Regardless, William Ellsworth also ended up in Snover and Wiliam McKinley would most likely have been born on the family farm near Snover. It is an extremely small town. My father was also born there. However, I never looked for birth records except for my direct ancestors. Wiliam Ellsworth was known as "doc" to his neighbors and was called on to attend to the sick in the area. This is according to his daughter, Ethel, who I met about 20 years ago. Ada had 14 children and the story is told that she did not even wake "Doc" up to help deliver the last child and took care of it by herself. Possibly Ethel gave me some other info on William McKinley but I have not dug through things to find out. I remember that she gave me some photos of some of her relatives. I guess we are of the same generation and have the same great great grandfather (James) and so we are cousins. Best Wishes, Clyde Coller

The property of William Ellsworth Coller was located in sections 11 and 12 of Lamotte Township, Sanilac County, Michigan. Using current road names, the house was located on the east side of Germania just south of Mushroom. This is northeast of Decker. The address is 2220 S. Germania Road.

According the Karen Coller Curell, the "grand" house burned down in 1943. This was actually the second home at this location. The first was torn down to build the "grand" house. William and Ada lived in a woodshed that was located behind the house while it was being rebuilt. This was the same woodshed where William McKinley Coller was born in 1895. The picture below shows the last home built on this location. Building materials were hard to come by during WWII.

When William Ellsworth Coller was getting on in years, the family pleaded with his son, Donald Granville Coller, to move back to the farm and help. Donald left a good job with Ford. He and Ellsworth did the farming. Because of the this, Donald and Ellsworth were to get a major interest in the farm. When William Ellsworth Coller died, his will disappeared from the house and the property had to go through probate. The court determined that everything had to be sold and divided equally among the survivors. One of William's children admitted taking and disposing of the will in a deathbed confession. This caused lasting divisions in the family.

Richart Family Notes, letter of 13 Aug 1949 to William's children: "Dear Cousins, every one and all: I was very much grieved to get word of the death of your Father, my own Cousin Will Coller. Iva signed her first name only to the Memorial Card which she sent me from Snover with your printed address on the evelope. So I am writing to you all; not knowing any more about Iva. We, Sister Franc and I, were so glad that summer day a few years ago when your Father and Mother drove into our yard and made us a call, all too short to get reacquainted. They were a grand heroic pair, your parents, to start out when young like they did to make for themselves a home in the wilderness of Michigan's thumb district. When your Father was a youngster, he would accompany his Mother (your Grandmother) on those rare occasions when she would come to Macon to visit her parents . . . and the rest of the family."

The following information was found in records located at the LaMotte Township hall:
1892-William E. Coller was Constable
1893-William E. Coller elected Constable
1896-William E. Coller Board of Qualified Voters
1897-William E. Coller Chairman of Board of Qualified Voters
1897-William E. Coller School Inspector


Noted events in his life were:
1. Occupation: Farmer: Michigan.
2. Alt. Birth, 1863. 1880 U.S. Census lists William Coller as 17 in 1880. This would make his birth year 1863. Different census listing the same indivudual's age at that time do not always calculate back to the same birth year. There may be a variation of a couple of years.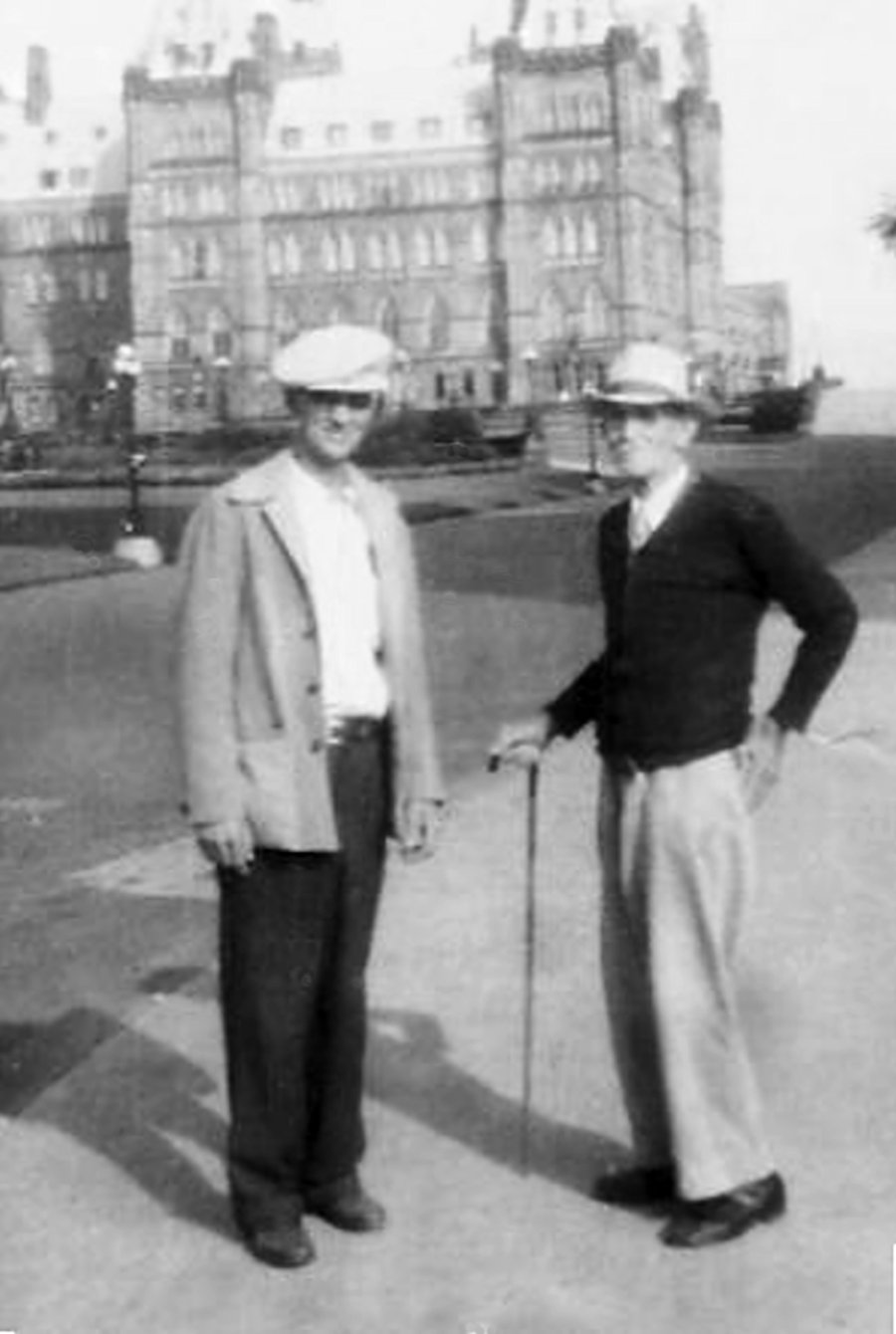 3. Picture: Parliament Hill, Ottawa, Canada. This is a picture of William Ellsworth Coller with his son William McKinley Coller in front of Parliament Hill in Ottawa, Canada. The year would be somewhere around 1940.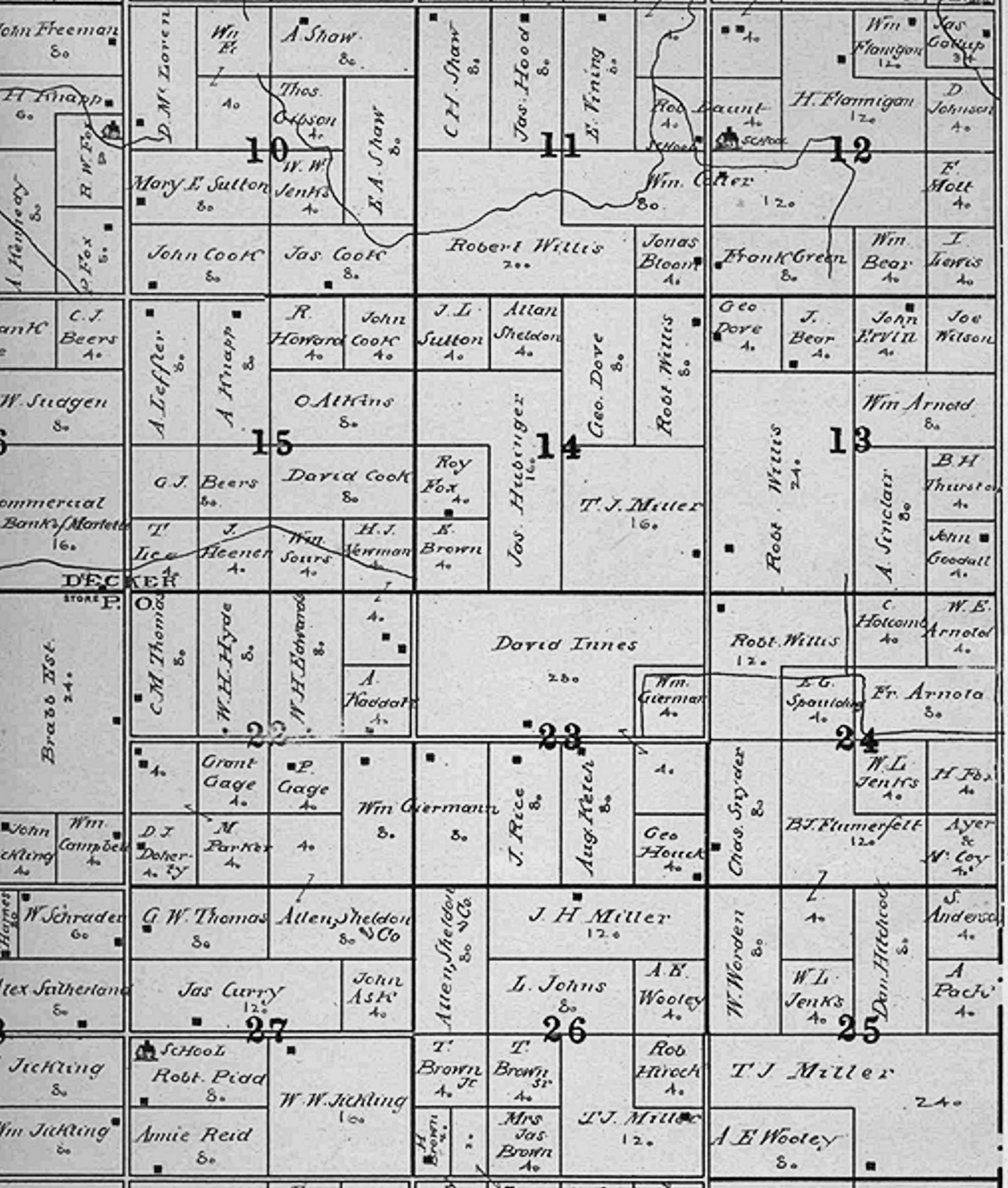 4. Picture: Sanilac County Land Index, 1906. The 1906 Sanilac County land index shows that William E. Coller owned property in sections 11 and 12 of Lamotte Township, Sanilac County, Michigan.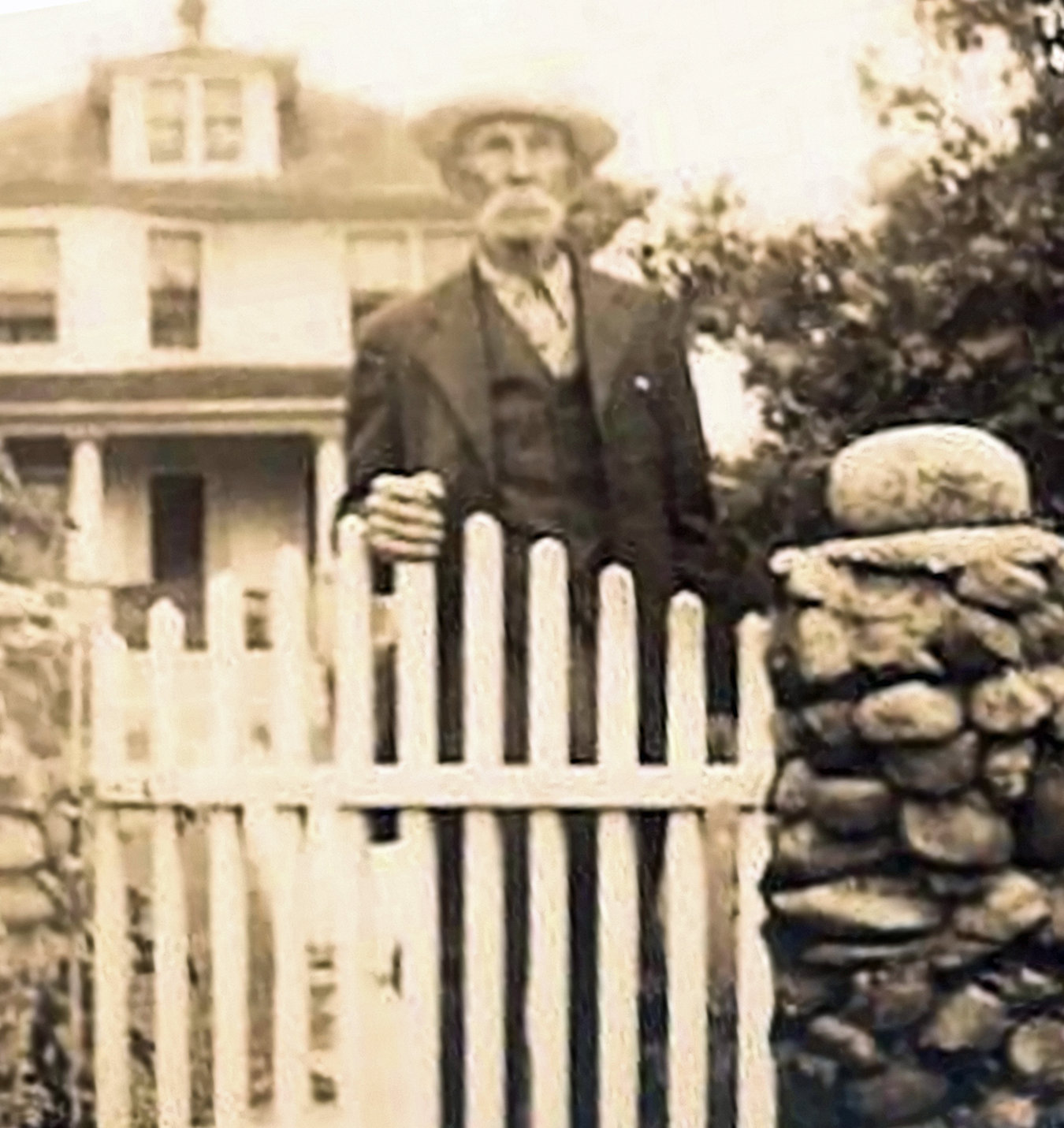 5. Picture: 2220 S. Germania Road, Sanilac County, Michigan, 1940. William Coller at front gate. This house burned down in 1943. The picture was probably taken around 1940.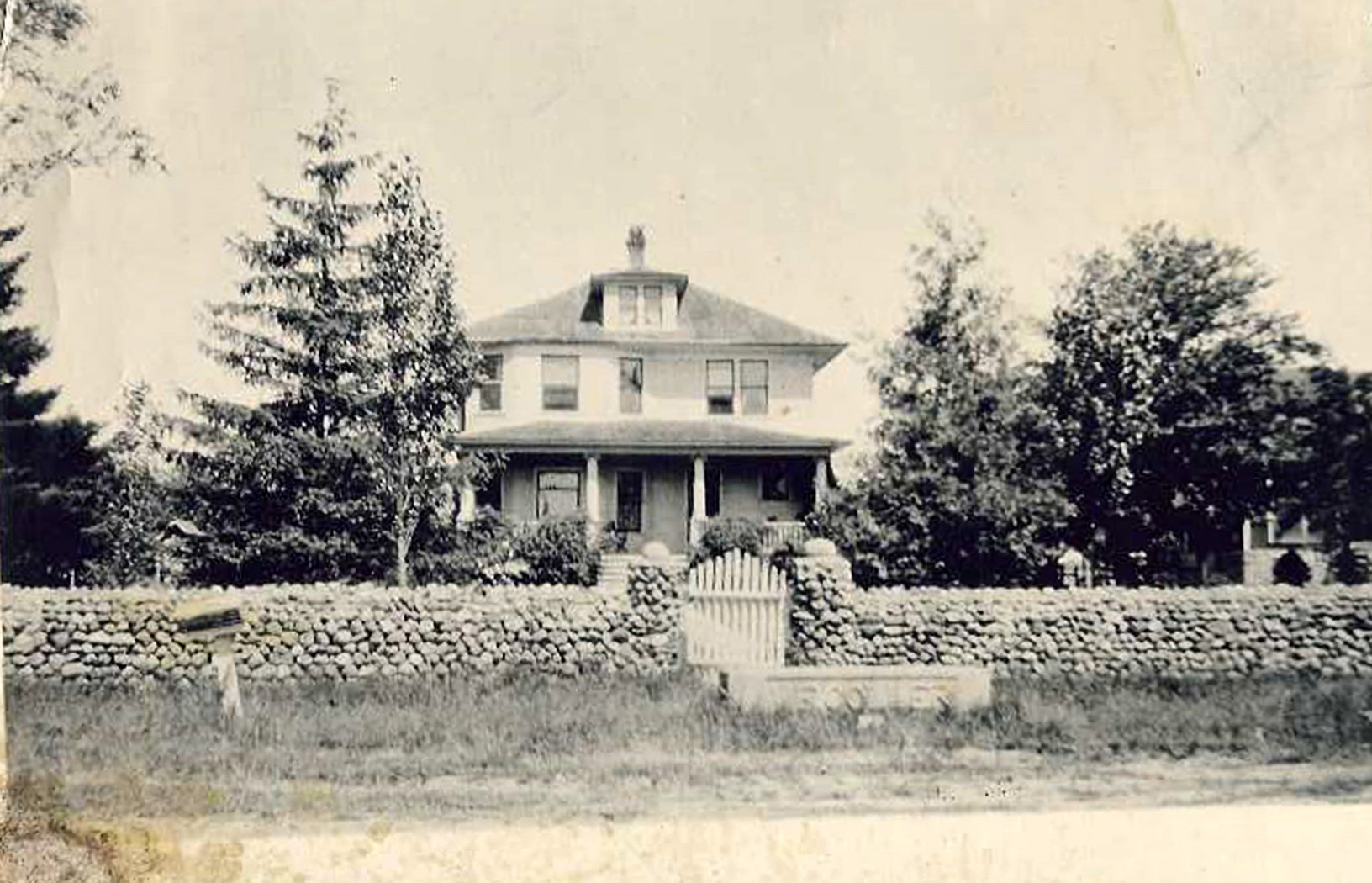 6. Picture: 2220 S. Germania Road, Sanilac County, Michigan, Bef 1943. This is picture of the "Grand House" that burned down in 1943. It was the Collers second house on the property.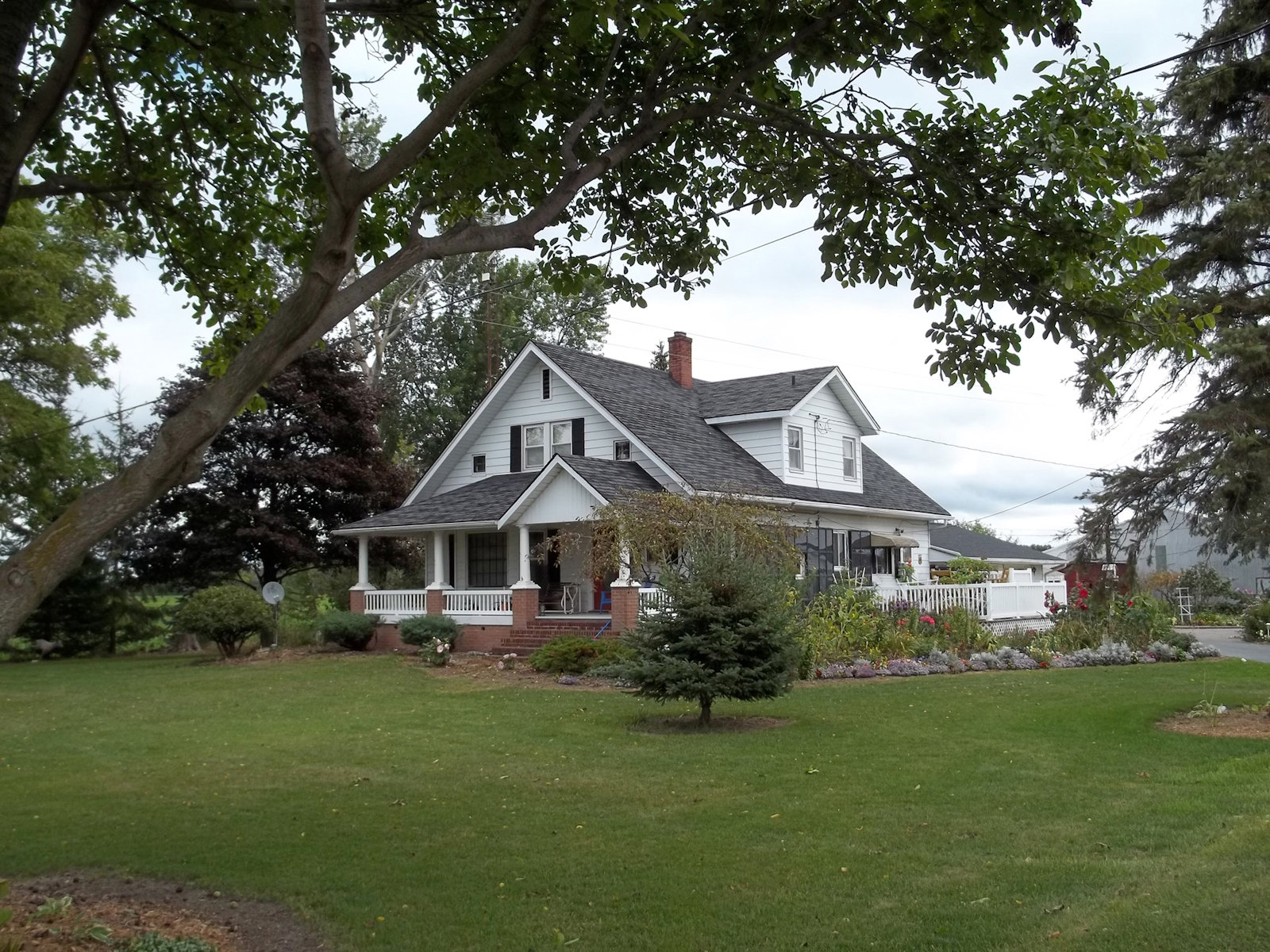 7. Picture: 2220 S. Germania Road, Sanilac County, Michigan, 2011. This is the third home built on the same location. The first was replaced by the "Grand" house which burned down in 1943. This was the new home built during WWII. Materials were hard to come by during the war which made building the new home difficult.

William married Ada Mary Caines, daughter of Abel Caines and Harriet Susan Lee, on 3 Apr 1882 in Marshall, Michigan. (Ada Mary Caines was born on 30 Jun 1863 in Newton, Calhoun County, Michigan,7,8 died on 5 Dec 1946 in Michigan 8 and was buried in Johnson Cemetery, Lamotte Township, Sanilac County, Michigan.)